Investment & Investor Life Coaching
The reason we invest is to secure our future or to improve our current situation. Therefore, our Investor life coaching looks at who you are, from your current financial position, the assets you already have and what you are trying to achieve as your personal goals and if there are currently any challenges in your private life.
The biggest factor in every investment plan is YOU.
Your Investor life coach will sit with you and become familiar with who you are and start working with you to achieve your goals plus, where needed, you will be introduced to specific industry professionals based on your current needs.
Your Coach is a sounding board to bring new energy and options into your life and drive you to achieving your goals in the shortest path possible.
Positive Passive Income
Creating a positive passive income stream is the ultimate goal of every investment plan and how you can secure your financial future and impact your lifestyle today.
If your goal is to invest to make money, then you should be investing in businesses that makes you money - not costing you money just to get a tax deduction!
Sounds simple, but what holds people back is not knowing how to manage a business, what type of business to invest in or how to set up a business.
Your U1st Realty Investor Life Coach will show you how to diversify your investment portfolio to include actual business's that bring you in a monthly income.

We have a dedicated team who will work with you on your developing assets in your positive income portfolio.
Contact Us Now to find out more.
Property Agents: Soucing Quality Investor Turnkey Property Solutions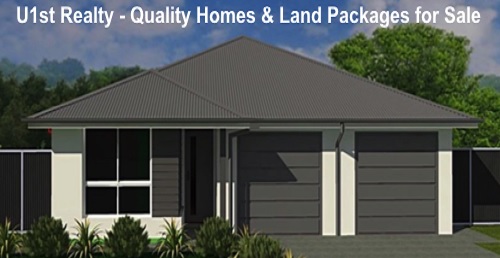 At U1st Realty we specialise in offering Turn Key Home Package Solutions to Owner Occupiers & Investors.
Turn Key Home Solutions offers the Home owner a Tenant Ready / Move in Ready Solution when building your dream home or investment property.
Why spend your weekends and time walking around display villages talking to consultants and waiting for quotes which often never arrive?
Full Turn Key Home Package Solutions
Turn key means that the house is finished ready for you to just turn the key and move in at completion.
The house build contract includes the carpets, tiles, window dressings, flyscreens, paths, driveway, fencing, lawn, landscaping and including the letterbox and TV aerial! The house designs, colours, facades and finishes are all done by experienced design teams to suit the demographic and lifestyle demands of the area / location.
Bring your own design and ideas or use one of the plans from our standard database.
BYO Land or We'll Find Some Allotments For you!
Have your own allotment? Yes we can arrange the building for you.
NEED a Block of land ? U1st Realty can source one for you, quickly and cheaply.
We can offer you an in home service where an experienced sales manager will take care of everything for you.
Discuss your building requirements and ideas

If you don't already have a home design we can offer you one from a database as a starting point or bring your ideas to the table

We will arrange your design to be drafted onto your lot and arrange a full list of your desired inclusions.

We will make sure your preliminary sketches comply with setback and covenant requirements

We will then send your design direct to database of affiliated and accredited HIA builders to obtain best possible quotation for you

You will then be presented with the best possible quotations to select which builder you wish to proceed with.
Benefits Associated With Buying A Brand New Home
When purchasing a new home you only pay stamp duty on the land saving more than $10,000 tax on an average house, also gives you a blank slate to work with, allowing you to choose all of the decorative features & floor plan that you prefer. New homes are outfitted with high-end appliances, brand new materials, and come equipped with Home Warranty Insurance to ensure that everything is in working order. They tend to be more energy efficient as a result of being constructed with the most up-to-date materials, saving you money in the long run.
We liaise directly with the builders on your behalf not only to get you the best build price but save you precious hours and wasted time dealing with many different companies.
All our builders are QBCC accredited and approved so you can be sure you are getting the best quality home with the exact inclusions you desire.
Your initial consultation is complimentary and we welcome your enquiry to discuss how we may assist you on your property investing journey.
Investors: Dual Occupancy (Dual Key) Homes?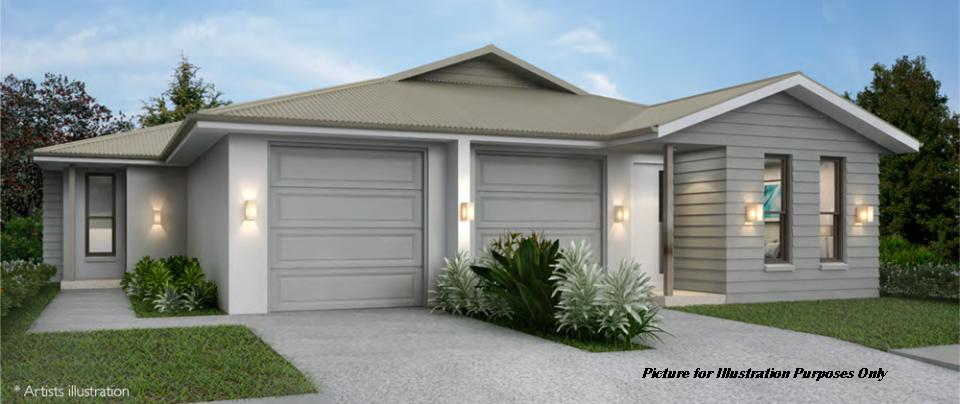 Dual Key Homes are two attached homes separated by a common Fire Wall on 1 Title .
A Traditional 3 or 4 Bedroom Family Home + an ATTACHED 1 or 2 Bedroom Auxiliary Unit (Granny Flat).
This innovative new housing product has become an increasingly popular choice for investors in the residential market.
Why?
I am so glad you asked, because... Dual-living homes are providing investors with two rents instead of one, offering a higher rental yield and making their property investment cash-flow positive!
The concept of dual-living homes consists of two individual self-contained residencies all contained within the one traditional housing design.
The residencies can be 3+1 bedroom, 3+2 bedroom, 4+1 bedroom, or 4+2 bedroom depending on the Council's rules. The dwellings are divided by a certified fire wall, which allows the owners to separately rent one or both of the homes to tenants, offering the INVESTOR an additional rental income, thereby making most of these properties cashflow positive and have excellent ROI (especially if buying brand new).
Various councils have different names for these types of dwellings, such as Dual-Key Homes, Auxiliary Units, Granny Flats, Associated Units and Secondary Dwellings. These are generally defined by council's as "a self-contained dwelling that:
Is established in conjunction with another dwelling (the principal dwelling)

Is on the same lot of land as the principal dwelling.

Is located within, or is attached to, or is separate from the principal dwelling."
This great concept of dual-living offers various opportunities for buyers such as:
First home buyers can relieve their mortgage stress by having an additional source of income from renting one of the dwellings.
Large families requiring five bedrooms, as well as families living with aged parents or older children are able to do so with these dual living arrangements.
Investors can achieve a higher rental yield with the two rental incomes, along with the low outgoings, which these dual-living products offer.
Benefits for Investors:
Two sets of rental income producing a higher yield, which should ultimately make this a cash-flow positive investment;

Lower risk associated with vacancy periods as there is a secondary rental income;

No strata fees, as the dwellings remain on the same lot/title.

One set of council rates and water rates, as opposed to strata titled dwellings.

Market rents for each dwelling are more affordable to rent than a typical 4 bedroom investment property, which increases the demand for this type of property.
Dual Key Homes - One Roof but Two Rentable Units!
Please Contact U1st Realty BEFORE purchasing your next investment property!
By the way: Many First Home Buyers buy these properties to help pay the mortgage and get their start in the property market. They live in one unit and rent out the other.
Creating Ongoing Wealth Through Quality Property Investments ... The Dual Dwelling Home Option - One Roof, One Set of Rates, Two Separate Rentals, Reduced Cashflow Risk, GREAT ROI.
------------------------------------
GENERAL ADVICE WARNING
The products, services, information and advice provided in this website has been prepared and represented in accordance with Australian law. However, it should not be relied upon as advice and we accept no responsibility for any loss, damage, cost or expense (direct or indirect) incurred by you as a result of any error, omission or misrepresentation in any information in this site.
Furthermore, any advice contained on this website has been prepared without taking into account your personal objectives, financial situation or needs. Before acting on any advice on this website, we recommend that you consider whether it is appropriate for your circumstances and if relevant, seek expert consultation.
Do You Want To Be A Property Investor?
Do you want to Know more about The Basics To Property Investing?
Download & Read U1st Realty's Guide to the Business of Property Investing today; to answer some of the Who, What, Where, Why & How Questions.
Finding an Investment Property Basics
In selecting an investment property it is critical that you follow a strict due diligence process to ensure an effective investment strategy. Condensed from a detailed checklist, investigations must include research into the following:
Location - Look at where people want to rent that is well located to surrounding infrastructure and facilities

Value for Money - Buy at or below current market value.

Infrastructure - Investigate current and planned infrastructure for the location you are considering

Rental Return - Minimum of a 4% gross yield

Design and Finishes - Consider whether design and finishes meet your prospective tenants demand (NOT what you want to live in personally)

Quality and Integrity of Developer/Builder - Investigate & Inspect past projects whenever possible
Download Here: Bonus Guide to The Property Investing Business by U1st Realty